Solar farm responds to the growing demand for electricity, slows down contamination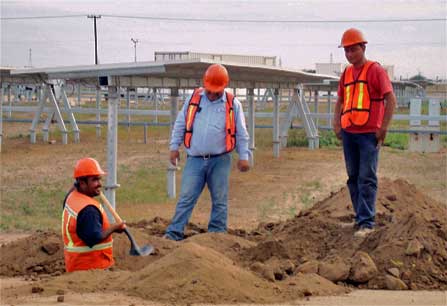 All that is left to do is the official inauguration of Latin America's largest solar farm (Foto: Talli Nauman).
LA PAZ
When dozens of community leaders met on November 14 in a public forum to exchange information and opinions on how to improve the quality of air in state's capital, one of their hopes rested on a new photovoltaic generating plant.
They were talking about the largest solar farm in Latin America and the first of its magnitude in Mexico.
Located a few miles from the Punta Prieta thermoelectric plant that emits a great deal of pollution over La Paz, the new Aura Solar 1 plant will take advantage of the large number of sunny days available in Baja California Sur to supply the growing demand from tourism, and reduce the health threats inherent in the burning of fossil fuels.
The hope is that the plant will generate an amount equivalent to the electricity consumption of the entire population of La Paz, while at the same time eliminate the production of 60,000 tons of carbon dioxide each year. This will be accomplished by replacing old plants which will contribute to a reduction in greenhouse gas emissions.
In addition, the new solar plant will reduce the price of energy for the Federal Electricity Commission (CFE) in Baja California, and will not require government subsidies.
This is due in great part to the strategy of the International Financing Corporation (IFC), in promoting the expansion of renewable energy in Mexico and the rest of the world.
As a member of the World Bank focused on the financing of the private sector, IFC granted $25 million and organized an additional $50 million in credit from the development bank Nacional Financierafor the construction of the Aura Solar 1.The Mexican company Gauss Energía, which is controlled by the Mexican investment firm Corporación Aura Solar , is the beneficiary of this plan.
The photovoltaic plant heralds a new era for electricity generation under the "small producer" regulatory model and is financed under the "project finance model". It breaks with conventions by not leaving all of the energy generation to the CFE.
"Aura Solar 1 represents the first step in an initiative that looks to become a platform for the development of more photovoltaic plants in Mexico under the "small producer" and "self-sufficiency" regulatory models, says Héctor Olea, president and general director of Gauss Energía.
The center has already begun testing, having connected to the CFE's transmission network at the Olas Altas substation in La Paz. All that is left is the official inauguration by the Mexican president, as is customary with each expansion of the city's thermoelectric plant.